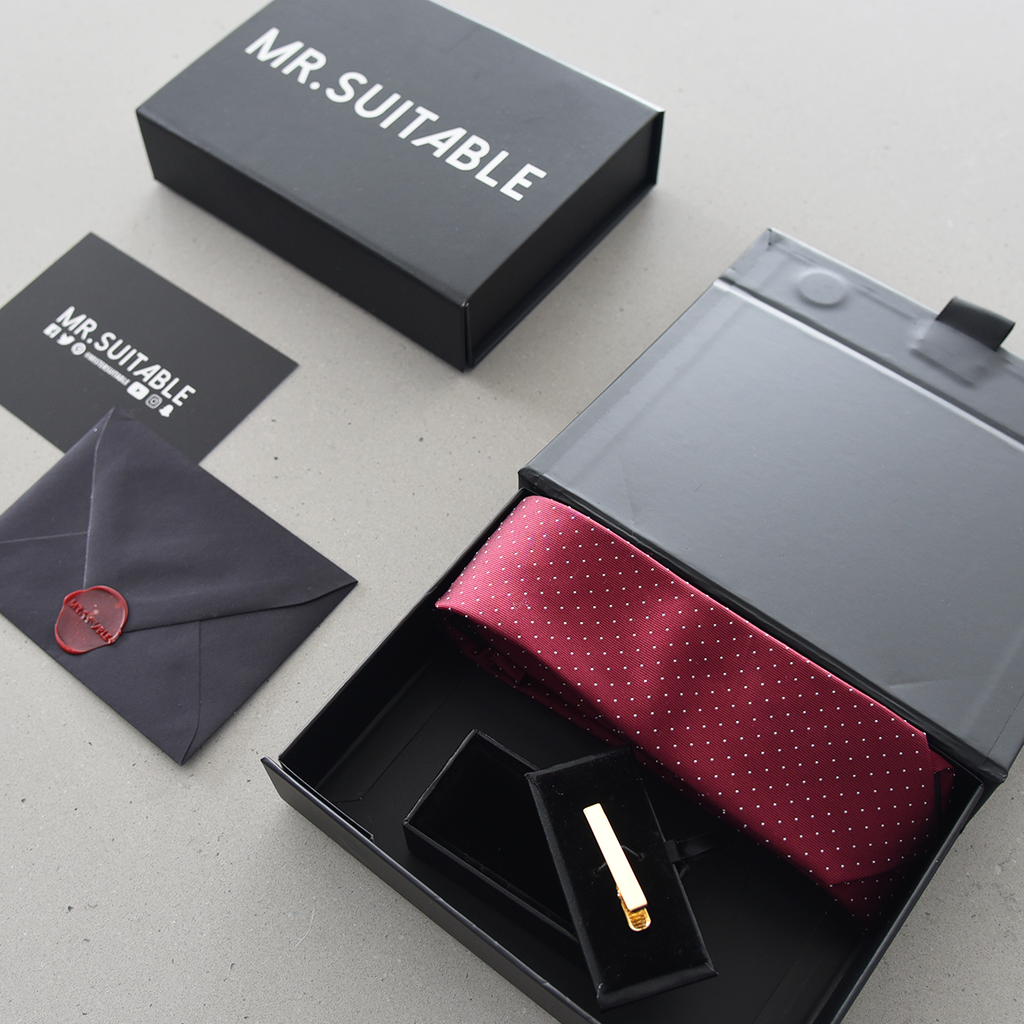 The Essentials - Gift Box (Tie/Tie Bar Combo)
$25.00
The 'Essentials' MR. SUITABLE gift box is a tie and tie bar combination starter kit for someone who is looking for a classic combo set to wear for a special occasion or everyday flair. 
Items Featured:
1) 'The Executive' Tie
2) 'Gold' Tie Clasp Tie Bar
Gift Box Presentation:
Dimensions: Length: 7.08" - Width: 5.03" - Height: 1.57"

Details: Two items (one tie and one tie bar) are wrapped in premium black tissue paper with a MR. SUITABLE wax sealed card placed on top.
Design: This reusable gift box has a matte black finish and a magnetic snap shut front flap closure. 
Optional Complimentary Celebration Card Insert - Enter celebration number in the "Notes" section of checkout. No selection entered will have a gift box with no card insert: 1) Birthday 2) Promotion 3) Fatherhood 4) Engagement 5) Anniversary or 6) Entrepreneurship
Product Details
The Executive
Dimensions: 57.87" x 2.16"

Material: 100% Silk

Care Instructions: Dry Clean Only
DESIGNED FOR THOSE WHO SUIT UP TO TAKE CHARGE AND LEAD THE WAY WITH A STRONG WILLED VISION TO GET RESULTS.
Tie Clasp - Gold
Dimensions: 1.5"
Care Instructions: Remove from tie with care. Wipe with scratch free towel.
MR. SUITABLE TIP: CLIP TIE BAR BETWEEN THE 3RD AND 4TH BUTTONS OF YOUR DRESS SHIRT.