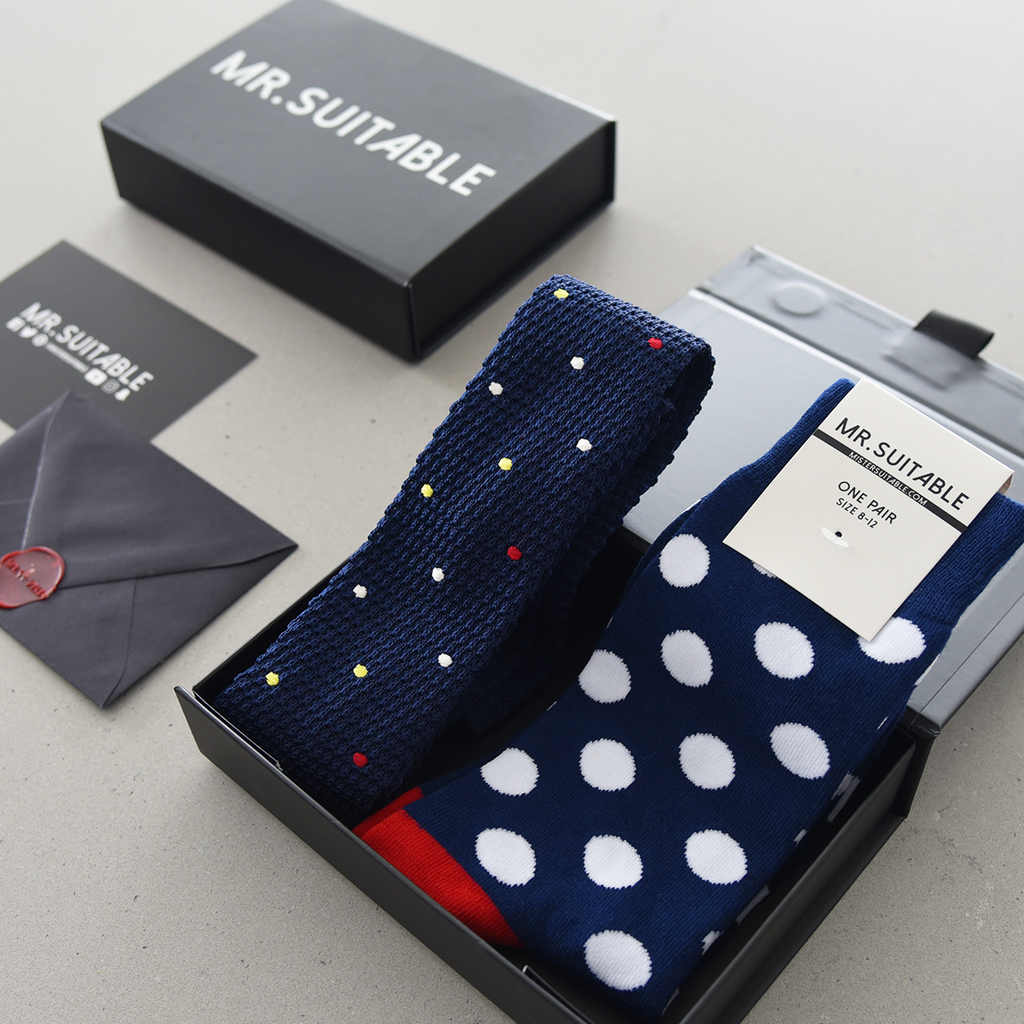 Dots & Co. - Gift Box (Tie/Sock Combo)
$25.00
The 'Dots & Co.' MR. SUITABLE gift box is a tie and sock combination starter kit for someone who is looking to add some coordinated flair to their style. Pair them together or wear separately to stand out. 
Items Featured:
1) 'The Architect' Knit Tie
2) 'Icecap' Socks
Gift Box Presentation:
Dimensions: Length: 7.08" - Width: 5.03" - Height: 1.57"

Details: Two items (one tie and one pair of socks) are wrapped in premium black tissue paper with a MR. SUITABLE wax sealed card placed on top.
Design: This reusable gift box has a matte black finish and a magnetic snap shut front flap closure. 
Optional Complimentary Celebration Card Insert - Enter celebration number in the "Notes" section of checkout. No selection entered will have a gift box with no card insert: 1) Birthday 2) Promotion 3) Fatherhood 4) Engagement 5) Anniversary or 6) Entrepreneurship
Product Details
The Architect
Dimensions: 57.87" x 2.16"
Material: 100% Polyester
Care Instructions: Dry Clean Only
DESIGNED FOR THOSE WHO SUIT UP TO MASTER IMAGINATIVE AND CREATIVE THINKING TO BUILD AN ARTFUL LEGACY OF INNOVATION.
Icecap Socks 
Fits Men's Shoe Size 8-12
Fits Women's Shoe Size 9-13
Dimensions: 15.00" x 3.50"
Material: 80% Cotton, 17% Nylon, 3% Spandex
Care Instructions: Machine Wash Cold